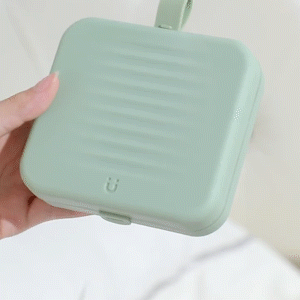 MAIN FEATURES
Magnetic Cover
This Sewing Box features a magnetic cover that is perfect for keeping knife blades, pins, and needles from moving around in the box. 
Magnet sweeps up pins from a distance and aligns them into an organized pile, so you do not need to stop and stick them inside a regular fabric pincushion.
Double-layer, Classified Placement
Two-layer Sewing Box Organizer
 with spool holders that can be divided into sections that fit bobbins, pins, pincushions, thimbles, needles, measuring tape, and all supplies. The clapboard has a fixed function, makes the articles place in order without chaos.
Great Organizing Tool
Magnetic pincushion makes storing and accessing pins, paperclips, nails, small parts, or other metal objects a snap. Large enough for quilting pins. Organize your sewing essentials and tools with this pretty box, keep the contents safe and organized.
Portable Case
With a tiny shape, the sewing kit is easy to carry and store. You can put it in your bag to an art class, workshop, school, or stack in the hobby room at home. A kit that in a true sense makes your life easier.
Great Gift
Our portable compact kit is packed with all the sewing necessities you need, a great gift for
 a frequent traveler, mother, grandmother, backpacker, little girls! 
Suitable for beginner, traveler, emergency mends, daily sewing, jewelry making, scrapbooking supplies, DIY projects, handmade crafts, and more.
SPECIFICATIONS
Material: 
PP+TPE
Size: 
12.3 × 11 × 3.3cm 
Weight: 
145g
Package: 
1 × Magnetic Sewing Box Organizer