Our silicone rock mold is easy to use and allows you to create beautiful art stones with ease.
This is the perfect tool for creating large beautifully shaped stones for your art. The mold is made of high-quality silicone, ensuring durability and reusability.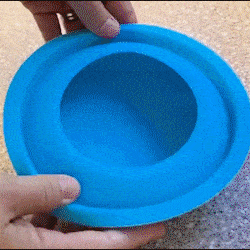 The design of the mold is specifically crafted with the perfect shape and size for stone art, making it easy to create intricate mandalas or any other designs you desire.

• Robust silicone mold
• Specifically designed for stone art
• Reusable
• Includes small center mark for mandalas or any art where symmetry is desired

The Art Stone Mold is a must tool for artists who want to create smooth and beautiful stones for their artwork.
With this mold, you can easily produce perfectly shaped stones every time, without any guesswork or tedious shaping.
The included center mark makes it even easier to create intricate mandalas, giving your art a new level of depth and complexity.
2. In the pop-up window, click on the location on the image below.
3. Choose your bank country.
4. Now you can use credit cards to pay.
5.Last Tip:
Do you want to use this credit card to create a PayPal account?
According to your needs, choose yes or no.

6.Successful payment.