This is an Easy Handmade Double Sided Wallet suitable for novice sewing users✨ It's time to surprise your friends. This template can be reused, make yours, and feel the joy of sewing.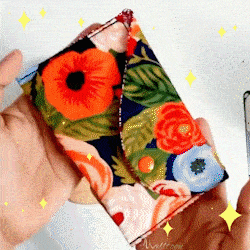 Old clothes don't need to be thrown away anymore! You just need to cut them up and put them back together again to turn them into another useful item. All you need is this template!
When you are worried about giving a friend something, the Easy Handmade Double Sided Wallet you make by yourself will be a good choice. Reusable to stop wasting time and resources!
Perfect size to keep items safe such as cash, change, ID, gift cards, small packaged snacks, gum, mints, and receipts.
[ After purchase, we will also attach a detailed sewing tutorial with your product ]
Fast and precise without sacrificing accuracy!

Instructions and video tutorials!

1/8" thick clear template

Easy to follow, concise, fast and easy to understand.
packing list
Easy Handmade Double Sided Wallet Template & Instructions
2. In the pop-up window, click on the location on the image below.
3. Choose your bank country.
4. Now you can use credit cards to pay.
5.Last Tip:
Do you want to use this credit card to create a PayPal account?
According to your needs, choose yes or no.

6.Successful payment.